Entertainment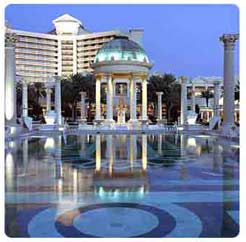 The Garden of the Gods is a 4.5 acre complex offering four swimming pools and luxury cabanas. A 23,000-square-foot health spa offers massage and body/facial treatments. The fitness center includes aerobics, yoga, saunas, steam rooms, 16-person spas, relaxation rooms, and a juice-bar lounge with terrace seating overlooking the complex. A business center rents cellular telephones and provides Internet access. In addition to the Forum Shops, a smaller shopping mall, the Appian Way, features a replica of Michelangelo's David.
Dining
Bradley Ogden – The celebrated San Francisco Bay Area chef prepares seasonal dishes such as hot and cold foie gras with kumquats, crispy black bass, and gnocchi with morels, asparagus, and braised veal. Contemporary decor of warm woods, fabric-draped lights, round booths.
808 – Memorializing the Hawaiian area code where chef Jean-Marie Josselin achieved fame, 808 features fare such as roast duck with lilikoi-caramel glaze under a ceiling of copper seashells.
Vialé – Casual Italian trattoria restaurant with indoor and outdoor seating. Breakfast, lunch, dinner. Offers zeppole (Neapolitan doughnuts) and specialty coffees for breakfast, panini and focaccia sandwiches for lunch, antipasti and entrées of chicken, lamb, quail, and beef for dinner.
Room Amenities
Situated at the corner of Las Vegas Boulevard and Flamingo Road, the Roman Plaza serves as a vibrant welcome center to the "new" Caesars Palace. The Plaza offers a vast array of dining and entertainment experiences, accessible to guests entering the property from the Boulevard's pedestrian bridges before they proceed into the Palace proper.
The Colosseum at Caesars Palace is a luxurious 4,100-seat theater with state-of-the-art electronics and unsurpassed acoustics—home to "A New Day," the theatrical spectacular starring Celine Dion, created by Franco Dragone and presented by Chrysler. Additionally, February 2004 marked the debut of Elton John's exclusive three-year agreement to headline with an all-new production titled "The Red Piano".