The Casino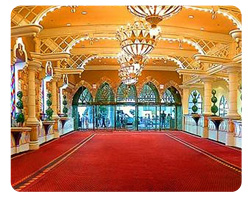 Rising behind the castle on The Strip, Excalibur's two 28-story lodging towers contain 3,991 rooms. Hotel attractions include the Court Jester's Stage in the Medieval Village shopping/dining arcade, where music, juggling, and other entertainment is offered without charge from afternoon until late night. An elevated tram connects the hotel with neighboring sister hotels, Mandalay Bay and Luxor.
Dining
The Steakhouse at Camelot – Widely cited as one of Las Vegas's best, this contemporary steakhouse features prime-grade beef, plush brocade seating, subdued lighting, a dramatic glassed-in show kitchen, and a piano lounge.
Sir Galahad's Prime Rib House – Prime rib is carved to order at the table in this restaurant which features Tudor-style decor. Regale Italian Eatery – This restaurant features Italian regional fare and string music.
The New Roundtable Buffet – This large restaurant serves breakfast, lunch, and dinner buffets, and a champagne buffet-brunch on Sundays.
Sherwood Forest Cafe – Open 24 hours, this restaurant serves breakfast, lunch, and dinner; features Chinese fare; and offers a children's menu.
Within the Medieval Village shopping arcade is a food court that includes McDonald's, Quizno's Subs, Krispy Kreme donuts, a Cold Stone Creamery ice cream shop, and a coffeehouse.
Entertainment
Uproarious fun for all ages, the Tournament of Kings family-oriented dinner show (two seatings nightly) features feats of daring, tests of skill on horseback, hand-to-hand combat, beasts, fire, and medieval pageantry, as diners dig into a feast without using utensils.
Every night except Thursday, Australian hunks present a male strip show called Thunder from Down Under in Merlin's Theater. On Thursday nights, the theater becomes Catch a Rising Star, an offshoot of the famed New York City comedy club. Fantasy Faire Midway is an arcade of video and carnival games and includes two motion-simulator rides.