The Hotel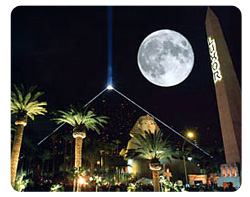 Inside the 30-story, pyramid-shaped hotel are reproductions of artifacts from Luxor and Karnak Temple. Throughout the pyramid, artists painstakingly painted authentic copies of hieroglyphics found in the Valley of the Kings and Valley of the Queens. An astonishing central atrium of 29 million cubic feet soars to the apex of the pyramid.
Guests enter the Strip resort beneath a massive sphinx. Luxor's elevators, called inclinators, travel at a 39-degree angle up the slope of the structure. The world's most powerful beam of light shines from the top of the pyramid. It is visible to planes at cruising altitude 250 miles away in Los Angeles, Calif.
Entertainment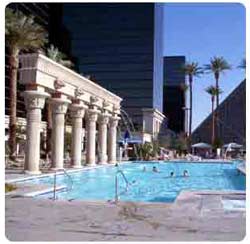 Nefertiti's Lounge features live entertainment nightly. The Ra nightclub features world-class DJs and dancing. The 1,200-seat Luxor Theater is home to Blue Man Group and the Pharoah's Theater is home to Midnight Fantasy.
Rooms
Rooms Amenities include color TV with remote, pay movies, cable, telephone, computer hook-ups, radio/alarm, and TDD equipment upon request. All rooms are equipped with an iron and hairdryer. Rollaway beds and cribs available upon requests.