The Resort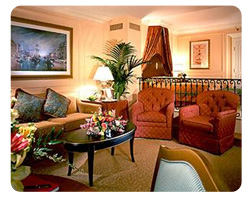 The Venetian is certainly amongst the highest-class accomodations in Las Vegas- they redefine luxury with more than 4,000 of the world's largest standard suites… The Venetian certainly has something for everyone… Relax at the sundeck, visit the Guggenheim hermitage museum, or check out the Canyon Ranch SpaClub. For the business traveler, we have the Sands convention center, Las Vegas' premier meeting space.
Eat! Shop!
The Venetian's most striking feature is the life-sized full scale re-creation of Venetian streets, complete with canals you can take a gondola ride in! Lining the canals and streets are 17 dining establishments and many, many shops to suit any shopper's tastes.
Room Information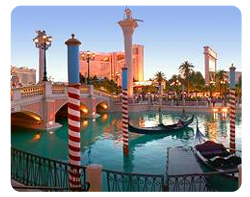 Standard Luxury Suite offers 650 luxurious sq. ft. and an accommodating, canopy draped, king size bed with overhead reading lights. This suite features a sunken living room with full size sofa sleeper, refreshment center, two 27″ televisions, in-suite safe, three dual-line telephones, separate modem line and a personal fax/printer/copier, bringing you the most beautiful, well-equipped suite in the world.